Daily Post, Nov 27th 1939

ARMED MERCHANT CRUISER SUNK

ONLY 17 SURVIVORS OF A CREW OF 300

The Admiralty last night announced another serious naval loss, the sinking of the RAWALPINDI, ex Pand O Mailship Co's 16,697 ton liner.

It is feared all the officers and ship's company have been lost except the following :-

Sub Lieut A. H. B. ANDERSON, RNR

Reginald BYGRAVE, Leading seaman RNR

Septimus PITT, AB, RNR

Frederick SKELLY, AB, RFR

Francis SAUNDERS, AB, RNR

Jeffe G. CHELTER, AB, RNR

Arthur CHANDLER, CPO

Joseph BRIGGS, Steward

Roy LEADBETTER, Steward

Percy HARRIS, PO

Frank SIMPSON, Plumber

Robert REID, Cook

Richard STONE, Cook

John DEMPSEY, Steward

John PEERS, AB

Henry FLEMING, Steward

Frederick RUSSELL, AB

The RAWALPINDI had on board the normal compliment of an armed merchant cruiser of her class, about 300 officers and men.

Until she became a merchant cruiser she was in the P and O Steam Navigation Fleet. She was a 16,697ton twin-screw, oil-burning liner, built by Harland and Wolff Ltd at Greenock in 1925.

On the outbreak of war she was requisitioned by the Admiralty and after many weeks in the dockyard many of her luxury fitting were taken out and she was fitted on her broadside with guns, she sailed again painted grey and flew the white ensign.

As an armed merchant cruiser she was a warship and an integral part of the Royal Navy, and took no part in commercial activities.

She was a different kind of vessel to the defensively armed merchant ships which continue to carry allied trade in spite of German submarine and mining activity. The latter have no broadside or bow guns only stern guns, and an anti-aircraft gun, which comprise of a purely defensive armament for a merchant ship in strict accordance with international law.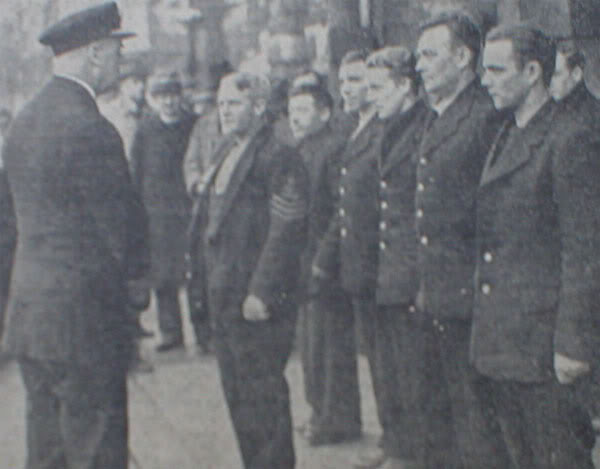 Survivors of the RAWALPINDI in London
Daily Post, Nov 30th 1939
Survivors of the Rawalpindi
Graphic stories of the fight
"Men jumped into the sea from inferno."
Survivors of the RAWALPINDI sunk by the pocket battleship DEUTSCHLAND off Iceland, arrived in London yesterday.
They were immediately driven to the Admiralty. Soon they marched into the Horse Guards Parade, people noticed the quiet, little procession and ran towards it shouting, "Well done boys!"
Admiral Sir Charles LITTLE greeted them and praised the way they had, "Worthily upheld the traditions of the Navy."
Graphic stories were told, one man, an old RNR who saw service on HMS MALAYA at the Battle of Jutland, was called up at the outbreak of the war and joined the RAWALPINDI as an AB Seaman gunner and was No2 on the aft starboard six-inch gun.
"It was just before 4pm that the warning was given that an enemy ship had been sighted," he said, "In the fading light we could see the enemy ship on the horizon 10,000yds away.
She began to bombard us, with our six-inch guns we could see we would be outranged. We got nearer however and shells began to hit us. We were given the order to fire and got three rounds off. Other guns around me were also firing. We might have hit the enemy, but, shell after shell hit us and before long the RAWALPINDI caught fire.
Another enemy craft fired at us and a shell fell near my gun, I think several of my mates were hurt. The gun-layer was hit in the knee and laid out. I do not know what became of him when the order to abandon ship was given. With another mate I jumped into the sea, the ship was ablaze burning like a piece of paper.
A boat empty but water-logged came near and about 50 of us jumped from the ship's side, only about 10 reached the boat. How we clung on I do not know, it was getting darker every minute, it seemed a long time before we were picked up."
Another survivor a 1st class Petty Officer RNR, said, "After one hit the lights in the magazine went out, a fire had broken amidships, it was an inferno. I was in charge, there was nothing else to do but flood the magazines to prevent the ammunition exploding.
I called eight men to come up with me to B deck, live shells and cordite were in the path of sparks and flames shooting from the fire amidships, Our guns were still firing, About 30 or 40 of us went over the side, we saw a water-logged boat floating past. It was a 1000 to 1 chance of reaching it. Some of us did.
The only thing we could find in the boat was a white handkerchief with which to attract attention. We tied it to the end of a boat hook and hung it up, we tried to fix up a jury-rigged sail with oilskins hoping to make land. We thought we might make the Hebrides, but luckily we were picked up by the CHITRAL, I should think the action lasted 40mins."
Copyright 2002 / To date