The world famed original Everton Toffee, established 106 yrs, patronised by the Queen and Royal Family, The Duke of Cambridge, etc, etc, manufactured only by R. H. WIGNALL, grandson of Molly BUSHELL the original inventor, and late of the Original Shop, Everton.
Depot, 39 London Rd, tin cases always on hand ready packed - wholesale and for exportation.
Feb 10th 1860, R. H. WIGNALL also advertises Original Ormskirk Gingerbread, wholesale and export, Everton Toffee manufacturer, 39 London Rd, not to be equalled by any other manufacturers out of Ormskirk, and 2d per lb under the original price.
Liverpool Journal Dec 30th 1882

Everton Toffee

Molly BUSHELL is a name which will be had in remembrance as long as Everton Toffee will be consumed. It invariably happens when a city, town, village owes its celebrity to the acts of a single individual that the gratitude of the inhabitants evinces in itself in the erection of some tribute to the memory of that person, but Molly's memory would long ago have been consigned to the annals of oblivion were it not for the pleasing nature of the legacy she herself has left behind.

Some 40yrs have passed since Molly BUSHELL departed, an aged and respected woman, and bequeathed to her children and grandchildren the toffee business and the wealth it enabled her to acquire.

Molly came from the district of Ormskirk some 100yrs ago, and it appears she obtained the recipe for the toffee from an eminent medical man of the period, which was given as an elixir for coughs, but, Molly divined that the tonical properties of the preparation were more acceptable than the medicinal virtue it might contain. It had a pleasant taste, and it was highly probable that many coughs were brought on by youths for the purpose of obtaining from their parents a means of procuring a supply of Molly's pleasant "mixture".

Molly's first "establishment" in Everton village has long since succumbed to the destroyer's hand, but, many people have now embarked in the business, who are in some way connected with the original inventor of Everton toffee.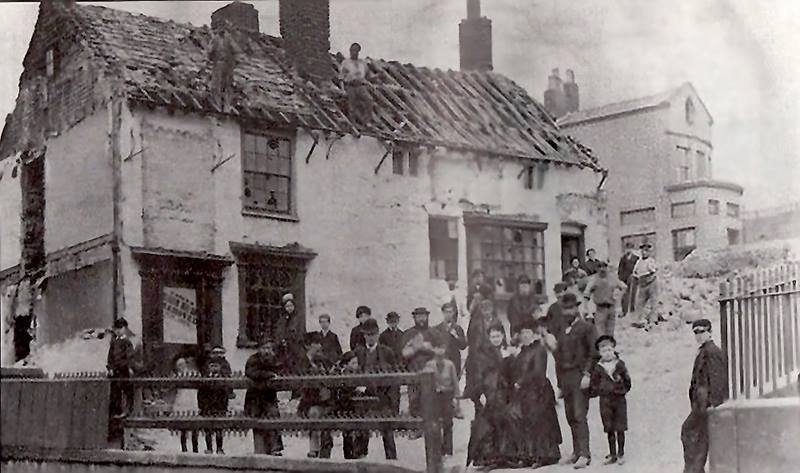 Molly Bushell, Toffee Factory 1864, ruins courtesy Liverpool Records office

It appears, there is only one grandchild of Molly and he has already passed his three score years and ten. He was for 50yrs a Parkgate fisherman, though his career with the trawl has ended.

Jim BUSHELL is still known to his Parkgate friends as "Toffey". Molly's firm and features are still impressed in his recollection, over 40 summers have passed since he laid her remains in their last resting place. With skin as brown as a berry from hard and honest toil at the net "Toffey's" recollections of Everton are those of his balmy days, when nodding trees and gentlemen's residences looked down on the river. It was in the boyhood of "Toffey's" father when thick hedges skirted the lane now called Richmond Row, and it was up this lane where in Molly's cart, he made his horse show its best metal, to prevent himself being stopped by the gang of robbers who infested the place. Molly was noted for her fine confectionary which was daily taken down into town by "Toffey's" father, [then an apprentice currier], after he had returned from his apprentice work. The centre of the town then was Whitechapel.

"Toffey" is now in the possessor of an article, closely identified with the Royalty of Everton, a long, straight back, wooden chair, formerly the property of Prince Rupert, whose residence was close to Molly BUSHELL'S, "establishment." Molly became the possessor of the prize when the Princes effects were brought up under the hammer. The chair is valued in the eyes of "Toffey", who has remained proof against the tempting offers of anxious antiquarians.

Whatever claims Everton may have to notoriety [jerry builders not even excluded] none seems so potent as that bequeathed by Molly BUSHELL, of being the birth place of world, wide, celebrated toffee, indeed many thousands who have breathed the name of Everton have not the slighted idea of it being the town which towers so immensely high over the waters of the Mersey, and that from its elevation can be seen the majestic vessels on the bosom of the Mersey. They only know it in conjunction with the celebrated toffee, still, if it hadn't been for the toffee, Everton would probably never have been lipsed beyond its immediate locality. Now it is spoken of from John o' Groats to Lands End. This is Molly BUSHELL'S legacy, by which she has perpetuated Everton's memory and her own.

Liverpool Mercury, Sept 8th, 1891

Death of an old Evertonian

On the 4th inst, there died at Parkgate, Cheshire, James BUSHELL, grandson of Molly BUSHELL, the original manufacturer and vendor of the toffee in which the name of Everton is inseparably connected. He was born in 1811 in Everton Cresent, and had attained the age of 80 at the time of his death. His grandmother first made the "Everton Toffee" in 1753 at a small shop in Village St, and subsequently built for herself a new house and shop lower down in the village which was at that time a fashionable suburb of Liverpool. In this shop which still remains, Molly continued the toffee and confectionary business, together with that of a small farmer. Mr BUSHELL was connected with the ferries long before steamers where placed on the river for ferry traffic, and formed one of a crew of a four-oared boat, which plied from the steps of St George's Baths and New Ferry. He leaves two sons and a daughter to mourn his loss.

1881 Census

Parkgate, Great Neston, Cheshire, England

James BUSHELL Head W Male 69 Liverpool Fisherman

Robert BUSHELL Son M Male 37 Parkgate, Cheshire, England Fisherman

Sarah BUSHELL Daur In Law M Female 35 Chester, Cheshire, England

Thomas BUSHELL Son Male 29 Parkgate, Cheshire, England Plasterer

James BUSHELL G Son Male 11 Chester, Cheshire, England Scholar

Thomas BUSHELL G Son Male 8 Parkgate, Cheshire, England Scholar

Copyright 2002 / To date