The ROYAL CHARTER
Northern Daily Times

Wednesday Aug 1st 1855

The new screw steamer Royal Charter

Yesterday was fixed for the launch of the magnificent screw steamer Royal Charter, built for Messers GIBBS BRIGHT and Co, of the Australian Steam Navigation Co. The vessel was built at the Sandicroft Works, on the Dee near Queens Ferry, Flintshire. The lines of the vessel were originally laid down for Messers CRAM and Co as a clipper ship.

Much interest was felt in the launch of the vessel, great numbers travelled yesterday from Liverpool and Chester to be present. From 9am till 4pm the rain poured down, yet despite this fact, both banks of the Dee were crowded with spectators, and boats gaily decked with flags passed up and down the river.

Precisely at 1pm the great vessel moved in its place and the wine bottle, which consecrates its "christening," was flung by Mrs S. BRIGHT, who performed the ceremony. The vessel glided on gracefully, amid the cheers and waving, but, just after entering the water, met, with a sudden check, and rested motionless as she lay before. Every effort was made to free her by the tug boats, but without effect. She was propped up firmly to wait for the next tide.

She id full rigged, with double yards and topsails. Her saloon will have 50 first class passengers, she has 28 state-rooms, with double berths, each room, 10 ft by 6ft 4ins. When sailing she will spread as much canvas as the Great Britain. She carries trunk engines, with direct action, the latest patent by Messers PENN and Co, of London, similar to those in the HIMALAYA. Mr William PATERSON of Bristol, builder of the GREAT BRITAIN, is the builder of the ROYAL CHARTER.

She has six water tight compartments, and an immense box kelson running the full length of the vessel, and has the capacity to carry 5,500 gallons of water. She carries Messers TROTMAN and PORTERS patent anchors, which, along with the cables were manufactured at Messers WOOD Bros, Dee Iron Works, Chester and Liverpool.

-----------

The ROYAL CHARTER finally reached the water on the 30th August 1855

-----------
Arrival of the ROYAL CHARTER, 6th April 1859
Daily Post April 7th 1859

Arrival of the ROYAL CHARTER

The splendid screw-steamer ROYAL CHARTER, Capt TAYLOR of the Black Ball line of Australian packets arrived in the Mersey yesterday evening after an exceedingly rapid passage of 65days. She left Port Philip Heads on the 21st January and was off Cork at 2am yesterday.

She brings 149 passengers and 27,000 ounces of gold.

The ROYAL CHARTER will be the Black Ball and Eagle packet for the 15th May.

April 8th

The ROYAL CHARTER left Hobson's Bay on the 21st January, rounded the Horn on the 21st February, 22 days, crossed the line 14th March, 42 days.

With light winds from the equator from the 20th February to the 7th March, she ran 4,079 knots, her average per day being 300 miles, her greatest days run 396 miles.

Addresses were presented to the Captain and officers by the passengers.

List of saloon passengers

Mr PRENDEGAST

Mr BRIAYUNAN

Mrs GOLDRING, 5 children and servant

Mr LAGLAISE

Mr and Mrs A. W. SCHAHLCRAFT

Mr NOBLE

Mr, Mrs and Miss BELL

Mr and Mrs JORDAN

Mr WILLIAMS

Mrs LAWRENCE and 2 children

Also 169 2nd and 3rd class passengers
Loss of the ROYAL CHARTER, Oct 1859
The loss of the Royal Charter
Oct 1859
Letter from the Carpenter to his wife
Moelfre, Red Wharf Bay, Oct 26th
"My Dear wife, - I am sorry to inform you that the ship is a complete wreck. She has gone to pieces this morning about 5 o' clock. There are only 25 to 30 of us saved out of about 400 souls.
Dear wife, give my love to the children and tell them I will be home as soon as the letter.
Remember me to Mr and Mrs RODGERS, and all inquiring friends. I shall tell you all about it when I come home. So no more at present from your affectionate husband",
William FOSTER
A letter from the Boatswain to his wife, posted in the Exchange rooms dated 26th.
"I have melancholy news to tell you. The vessel was completely wrecked last night in Red Wharf Bay, during a tremendous gale from N.N.W, All hands lost except in my judgement about 25. Thank God I am saved. The carpenter and myself are the only ones from the officers department who have escaped"
List as far as can be ascertained of those saved :-
Passengers.
William John FERRIS, Thomas GUNDRY, James MC CAPPER, Henry Carew TAYLOR, James DEAN, ? BRADBURY, Samuel GRENFELL, Samuel Edward GAPPER, John JUDGE, James RUSSELL.
Seamen
William B. DRAPER, Edward WILSON, George M. GIBSON, David STRONGMAN, Tom TIMS, Patrick DEVICE, James, WHITE, George PRITCHARD, Thomas CUNNINGHAM, William BARTON, Thomas CORMACK [steward], John O'BRIEN, Joseph ROGERS, George SWAGER [Boatswains mate, correct name SUAICAR], Walter HUGHES Apprentice, William FOSTER [Carpenter], Owen WILLIAMS [Quartermaster], Henry EVANS, Thomas GRIFFITHS, William MC CARTHY.
From a passenger, Mr W. A. GARDENER, who left the vessel off Queenstown in a pilot boat, and landed with 10 other passengers, 24hrs afterwards, and came on to Liverpool, via Holyhead, his wife remaining with the ship]. We learn that the Royal Charter left Melbourne on the 26th August, with about 300 passenger. She arrived off Holyhead on Monday and proceeded to Liverpool. And states throughout the voyage bad weather was experienced and that off Cape Horn the engines got strained, however the vessel behaved splendidly, and the greatest happiness prevailed among the passengers.
Off Ireland a collection was made for a testimonial to Capt TAYLOR, and a purse made by the lady passengers for Rev Mr HODGE of New Zealand, who had discharged the religious duties during the voyage.
Mr GARDENER, supplied some names of the cabin passengers he could recall, very incomplete, Edwin FOWLER, John MURRAY, Mrs, Miss and three children, Walter NUGENT, Carew TAYLOR, Mr's GROVE, MOLYNEUX, MOSS, TWEDALE, GRUNDY, MC GEORGE, Rev Mr HODGE, Mrs FOSTER, Mrs FENWICK and children, Mrs HUTTON, Dr HATCH, Mr and Mrs PILCHER and two children, Mrs BEAMS, Dr WRIGHT, Mr EMERY, Mr S. J. HENRY, M. La FORGUE, Mr's RUFFORD, WELSH, MELLOR, WATSON, WOODRUFF, Mr and Mrs JENKINS and four children Mrs NAHMUR [Consul's wife], Mr and Miss FOWLER, Mr and Mrs DAVIES and two daughters, and a son from Tasmania, a captain who had lost his vessel through collision with the Red Jacket, and Capt WITHERS who had lost a ship on the Feejee Island.
The steamer DRUID which arrived this afternoon from Bangor and Beaumaris reports the vessel had broken up and the people were plundering, the military had been telegraphed for. Several steamers had been despatched and it is probable Capt MENDS of H.MS. HASTINGS may send a despatch of marines to protect the property.
The Royal Charter was built in Sandycroft near Chester from designs of Mr GRIMROD of Liverpool, and originally intended as a sailing vessel, but having been purchased on the stocks by Messers GIBBS BRIGHT and Co, she was transformed into a screw steamer. She was an iron vessel of 2,749 tons register, and furnished with engines of 300 hp. Length 320 ft, breadth of beam 41 ft 6 ins.
Eye witness accounts in brief:-
Oct 29th 1859
Liverpool Friday
With the exception of two who were injured all the survivors arrived in Liverpool last night. It is stated that when the vessel struck one of the crew went into the stateroom and broke all the bottles containing spirits, fearing his fellow seamen may intoxicate themselves.
On the landing stage and at the offices of Messers GIBBS BRIGHT and Co, some affecting scenes have taken place among the relatives of those who were on board the ROYAL CHARTER.
Numerous people in Liverpool had relatives on board, Dr CHURTON had a son amongst the passengers. Mr WALTON of the Theatre Royal's, son was an assistant steward.
The Captain succumbed to a sailor's fate, He was seen on deck from 9pm, exerting himself to make all right until he was exhausted. He saw the water steal a child from its mother's arms, and shouted to Mr STEVENS Chief officer to give a hand and secure the child with a rope, hoping then help would be soon available. He was last seen struggling in the water, after this he and Mr DOWIE, the 2nd officer were seen struggling to reach the shore, when a boat fell from the davits hitting them both on the head, they were not seen again. Not a superior officer was saved, not a woman, nor a child.
Narratives were given by the boatswains mate, and passengers,
Mr James RUSSELL a passenger belonging to Scotland, had been 7 yrs in Australia and had gained considerable wealth. He had with him his wife and two children, one aged 10 the other 2 and a half years. He managed to get his family on deck and held on to them, wave after wave surged over them, one large wave carried away his wife and children he never saw them again. He was washed ashore himself. He has lost everything on board his family, his wealth, and is now penniless.
Capt WITHERS who had lost his own vessel in the South Pacific assisted the women and children as did Dr HUTCH a Government medical officer. Rev Mr HODGE a Church of England clergyman belonging to East Retford, held a prayer meeting amongst the passengers.
John JUDGE a passenger of Herculean size was in the forecastle when the ship snapped asunder, he was washed out, weather side and saw many people closed up in the jaws of death around him. He managed to catch a spar and make his way to shore.
William BARTON, a rigger of Liverpool said, that he and 10 others having taken the TYPHOON round to Cardiff, went on board the UNITED KINGDOM, tug steamer. Meeting the Royal Charter going to Liverpool they got on board to work their passage home, at 11am on Tuesday off Bardsay Island. At evening a strong gale passed up from N.E, at 9pm they fetched Point Lynas and hove to for a pilot, they fired rockets and guns but no pilot came. At 12 midnight they found themselves on the lee shore off Malvery, they let go of the port anchor in 15 fathoms of water. The anchor parted at 2am, the 2nd anchor went down at 110 fathoms, the port having used 80 fathoms on the starboard. The steam was up and the vessel turned to the wind, she continued to drag stern to ashore with Point Lynas light on the port.. The ship struck on an iron-bound coast, in Malvery, not far from Amlwch. She beat against the rocks and after striking and dragging for half an hour she fell foul close into land about 4 fathoms. The tide was ebbing, it was pitch dark, the boats were ready but they were ignorant as to what sort of coast it was, the sea was so rough no boat would have survived in it. At 6am they saw a man on shore and he bewildered at what he saw went for assistance. In the meantime the ship was giving way rapidly, a Portuguese sailor, Joseph ROGERS, tied a rope around his waist and swam to shore, by this means a hawser was run and attached to rocks and the boatswain's chair was attached. They got about a dozen ashore, when the ship suddenly parted in two, giving way amidships. The Captain and officers had kept the passengers below for safety and they were swallowed up with the iron and machinery.
Patrick DEVINE and Thomas CUNNINGHAM also riggers of the town gave similar statements.
Walter HUGHES an Apprentice, whose parents live at 1Toxteth St, is lying in bed at Malvery suffering from severe crushings and bruises but is not in a hopeless state.
Councillor WAGSTAFF of St James St, who was a passenger by the DRUID from Bangor yesterday, gave his account of the particulars he found at the spot. He was at Beumaris on Wednesday and heard there was a vessel on shore at Moelfra, about 3 miles from Dundas Head. He went to the Customs House agent who confirmed the intelligence. He drove up to the scene with some friends. On the beach he saw people from the locality with some survivors. One passenger was rambling about the shore, more like a maniac, he had lost his wife and child. He also spoke to two Cornish miners who had been long in Australia, they had returned home with their savings and had lost about 10 sovereigns. He spoke to William John FERRIS a passenger who said the vessel struck between 2 and 3am on Wednesday, they set the bay on fire with signals of distress, they set off blue lights, rockets and fired cannons in the hope of getting assistance from shore. A man swam ashore with a hawser by this means some had been saved.
He saw a number of people searching on the beach, when he asked what they were looking for, they said, "Gold.". One man found a bag containing 100 sovereigns, up to 300 were found in all, all was handed in to the Customs House agent who took the names of the finders. There was 20 men employed in taking charge of the property found on the beach.
He saw many bodies washed up on the beach, among these were two children, everywhere he saw nothing but distress. He was told bodies where being washed up on Red Wharf bay and went in that direction, he saw the body in a field of an able bodied man whose face was badly bruised. He asked a man he met what where they going to do with the bodies, his reply.
"I cannot get the people here to do anything."
WAGSTAFF, said, It is not likely you will get them to assist unless you pay them"
The man said he was the Churchwarden and didn't know what he could do, he asked would it be right to put the bodies in the boat house, Wagstaff, advised to put them in the boat house and lock them up.
While standing there a bodies were brought up with very severe injuries, a girl of about 15 to 16 yrs old and the sail maker, a fine powerful looking fellow who appeared to have no injuries.
A gentleman who returned from Conway on Wednesday night, said during that afternoon, two little boys aged a about 11 and 9, lashed to a plank, were washed up there still alive. It appeared they had been launched on the stormy water by their father, from a little vessel, after it proved unseaworthy. Our informant says the father reached the shore safely, and that the boys must have made a perilous voyage of at least 6 miles on their bit of plank.
Liverpool
------
November 7th 1859
The following is a complete list of passengers who embarked on board the ROYAL CHARTER, furnished by Messers GIBBS BRIGHT and Co of this town :-
Saloon
Hugh Bethune, Mr and Mrs BRUCE, infant and servant, W. BEAMER Jnr, Mr and Mrs DAVIS, two daughters and two sons, Mr, Mrs and two Miss FOWLER'S and servant. Mrs FENWICK and four children, Mrs FOSTER, Mr J and Mrs GROVE, Mr and Mrs GARDINER [Mr GARDINER landed at Cork], Mr GUNDRY [Saved], F. T. HTTON, Rev Charles HODGE, Dr HATCH, J. S. HENRY, Mr and Mrs JENKINS and five sons, Walter LAFARGUE, Mr J. B. Mrs, Miss and Master MURRAY, Joseph MC EVOY [landed at Cork], Mr MELLOR, Mr MOLINEUX, W. H. MORSE [saved], R. F. MACGEORGE, Mrs NAHMER and child [landed at Cork], Mr W. H. and Mrs PILCHER, two children and servant, Mr RUFFORD, Mrs TWEDALE, Mr Henry E. TAYLOR, child and servant [Mr TAYLOR saved], Mr WELSH, Capt WITHERS, Mrs WOODRUFF and child, Mr G. WATSON.
Second Class
Mr ALLEN and two children, [landed at Cork], Capt ADAMS, Mr BARRATT and child [son], Charles CALLIS, Mr and Mrs DODD and two children, Miss F. DAVIS, Mr EDDOWES, BIRD, Edward GATES, T. E. GAPPER [saved], Mrs GLOVER, John GRIFFITHS, William HARLDEN, Mr HENDERSON, John LOONE [saved], LETHLAINE, L. E. MENTION [saved], John MAULE, Mr MC NAB, T. MACREADY, NICHOLAS, Mrs NORMAN and two children, Mr PORTNAY, Mr PERRY, Edmund PEARCE, Mrs R. ROSE, Mr and Mrs RUSSELL and two children, [Mr RUSSELL saved], Mr and Mrs SMITH and three children, Solomon SAMUEL, Mr LANSAN, Julius STIRKO [landed at Cork], Miss Elizabeth WARD, Miss Mary Ellen WRIGLEY, Edward WATSON, John WILKS, Mr WATSON.
Steerage and third class
John BRADBURY [saved], Mr LYONS and family [wife and three children, two sons aged 10 and 12], J. TRUSTEMAN and family [two children], Henry BURNS and child, Nathaniel NATHAN, Alice NEWTON, J. CHURTON, John and Catherine DRYGAN, John JUDGE [saved], Maurice BOYLE, James DEAN [saved], Wright LOCKWOOD, J. MOSS, Mr FAULKNER and child, Robert JEFFERY, P. De La LANDA, David THOMPSON, Mrs KENNEDY and family [two children], Thomas WILLIS, J. WICKETT and party, C. JACKEMAN, Messers JONES and RICE, C. KISTERMAN, Messers COLLINS and STURT and LYON, , Charles CONWAY, Mr KIRKBRIDE and two sons, Mr KENNEDY and family [wife and three children], William BANKS, David THOMAS, C. R. ROSS, W. S. FENIS [saved], J. MC CAPPIN, [saved], T. TAYLOR, Robert HAGARTH, Henry ENGHANS, William and John ROW, Messers TRIPIT and LOWE, William MAKEPEACE, Thomas, FAWCETT, William BOWDEN [saved], James KING, Denis COLLINS, William and T. MURRAY, John BUCHANAN, C. MC PHULL [saved], J. ROBINSON, Alexander POTTINGER, R. OLIVER and party, P. HOGARTH and family [one child], William FORD, C. SHANAHAN, David BELL, William WILSON, George SMITH, Michael FRAWLEY, Messers DEROSE and KENNY, John FAMBY, R. LAYSTAFF, Frank WEBBER, George WATSON, Mr HOLLAND and family [three children], Isaac STEPHENSON, Mrs ATHEY and child, T. NEWTON, Agett RICHARDS, James STANARD [saved], EDMISTER and ELLIS, Mr TERRIL, Jessie THOMDEN, Baptiste PHILLIPINE, BATES and ROSELY, James JOHNSTON, James PARDY, J. SPYAGLIO, George CHESNEY, Thomas BYRNE, John GRICE, Matthew SCOTT, HOUGHTON and THOMSON, T. WOOD, THOMSON and MILLIKEN, Noah LYONS, William GREEN, Robert TUCK, Joseph GIBSON, John WOTHERSPOON, John LYNCH, Charles ANDERSON, P. THOMPSON, E. FOWLER, H. IVEY, L. PORUT, Michael KAVANAGH, Antonio ALBERGATH, DRIFFLON and ROLLS, MORELLI and CAVAGNA, John and P. MARTIN, George LIETN, Henry LAWTON, George TAYLOR, Samuel GRENFELL, [saved], E. ALLEN, John ANDERSON, S. DALTON, William STOREY, W. CROWLEY, Mrs ROSE and family [two children one an infant], D. TRAVERS, T. WYATT, James SULLIVAN, James TURNER, Mr CARTNY and family [three children], B. BLADIER, Mr PADARITTE, William BISHOP, Mrs WILLIS and family [two children], John GILLESPIE, Thomas KELLY, Mr MITCHELL and wife, William FLEMING, John SCOTT, John MUHLMANN, Charles PARKINSON, John PARKINSON [or RANSON], James PAMPLIN, Miss DAVIDSON, Henry SIMS, John MANION, Samuel Mosely WADE, Nicolai Le PAGE, Mrs MC LEOD and family [two children], William TANY, John INGLIS, Richard DAVIS, Joseph POTTS, Frank HOYLAND, E. WILLRAY, Miss Susannah MORTON, John MASON, T. BAKEWELL, James BLACK, Baratti VINGENGA.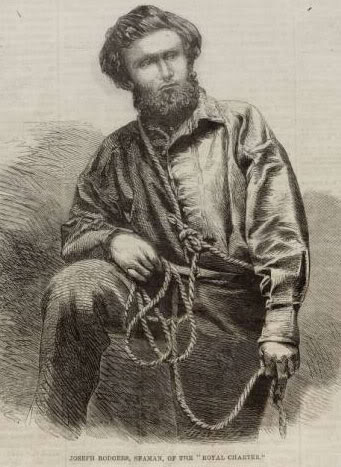 Illustrated London News, Date: 26th Nov 1859

Liverpool Mercury, April 7th 1860

Jose RODGERS, the Maltese sailor who behaved so nobly on the occasion of the wreck of the Royal Charter has arrived in Melbourne in the GREAT BRITIAN and has been warmly welcomed. A purse was to have been presented to him at Cremorne, but, owing to some misunderstanding between the Mayor of Melbourne and Mr COPPIN, the presentation did not take place. A purse containing 40 sovereigns was given to him on the boards of the Royal, by the manager of that theatre.

Liverpool Mercury, Sept 11th 1897

Death of a brave man

The death took place yesterday at the Liverpool Northern Hospital of Joseph ROGERS, in his 68th year. In October 1859 on the occasion of the wreck of the Royal Charter, on the Anglesea coast, [he being a member of the crew] he performed an act of valour which secured him lasting fame. Carrying a rope he swam through boiling surf to the rocks, and was the means of saving the life of 35 persons, mainly women and children by means of a canvas chair, he went twice from ship to shore with a line. His achievement was acknowledged by presentations from the Board of Trade and the Liverpool Sailor's Homes. He received £200 collected for him on the Liverpool Exchange. For some years he kept a small public house in Prison Weint at the bottom of Water Street. Until a few years ago the once famous auxiliary screw steamer Great Britain lay in the upper reach of the Birkenhead float and ROGERS, while the caretaker of that ship, used to recount his adventures to curious visitors. He continued to follow the sea and latterly had been skipper of a steam flat on the Mersey, he died of bronchitis.
St. Gallgo's Church where victims were buried
Pentraeth churchyard with more victims
The Uncommercial Traveller by Charles Dickens [1860] an extract on the wreck
Copyright 2002 / To date